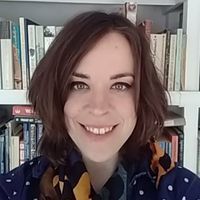 Abi L. Glen
The Guardian thinks that having hanging baskets is the sign you've mastered adulthood. Flowers and flossing are all very well, but the true measure that your childhood is over is when you literally skip to pick up a delivery of cardboard boxes. That's right. I got a genuine kick of joy at the thought of a cardboard box filled with other, smaller cardboard boxes.
We've been insistent that we'll use sustainable and recyclable materials as far as possible for this project. Lil Packaging is one of the biggest packaging suppliers in the UK, are just up the road, and are about the only company of its kind approved by the Forest Council. We wanted some kraftpaper/brown cardboard to keep with that handmade #aesthetic the Cambridge Art Makers are working on. Sadly Lil had run out of these, so we ordered a selection of sprauncy carriers and plain white pizza boxes instead. I had the world's lamest Goldilocks moment playing with them. In case you're interested, a taxonomy of the order:
Does anybody have any suggestions for sustainable and reasonably priced packaging? Or maybe something better for me to do with my time. Either way, send us a note on the Contact Us form below, or tweet@abilglen.