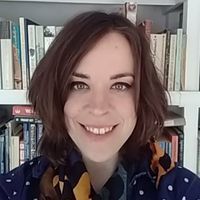 Abi L. Glen
Twas the 5th of February, and all through the house, many creatures were stirring, including this squirrel:
I am very pleased Dan managed to capture the pure delight that a Museum in a Box can bring. Any time anyone questions me on who the boxes are for, and if the content might patronise/alienate different ages, I can just show them this. An allegedly grown woman, with various Responsibilities and Qualifications, squealing over a squirrel with a Barnsley accent.
George Oates, CEO of Museum in a Box and our creative industry partner, had flown her Hoxton offices to join us for a day in Cambridge. First on the list was coffee (George is Australian, and I follow my Italian neighbour Fiorella's dictum: '3 espresso in the morning: one for this eye, one for that eye, one for my brain') followed by a whistle-stop tour of the Museum's highlights. A little Lowry, a mooch around the Millais, a poke at the pineapples.
The skeleton CEEF crew piled into the Judge for lunch that day, before George, Dan and I got down to brass tacks at our afternoon meeting. We began with a proper demonstration of the box itself;George was kind enough to bring us a magenta Perspex number, which looked exactly like a boiled sweet. We played a collection of American Frog sounds; the squirrel from Barnsley Museum,a beautifully designed set of playing cards displaying Japanese vocab, and a whole host of other gems.
Then came Business. We talked about the plans for the CEEF project in the next couple of months: our ideas to prototype a Museum in a Box subscription service, the theme of our first collection (which will be, wonderfully, food— to tie in with an upcoming exhibition), the outreach opportunities we were pursuing, where we could draw on George's expertise and where she could use ours. After a few hours and many biscuits, we had a new and improved mission. We'd junked a few ideas and parked some others for safekeeping, and we've got a streamlined set of ideas to help bring the first subscription box to life.
To that end, for the next wee while Jennifer and I will be working with Dr Vicky Avery, Keeper of Applied Arts and co-curator of the exhibition EAT FEAST FAST: the art of food in Europe, 1500-1800 (26 November 2019-19 April 2020) for our first collection. Things are going to get kooky (cookie?), friends: we've already signed up to 3D model a tureen in the shape of a trussed-up capon, and are going to be photographing a mock-Baroque feast next week. As we've said from the beginning, the aim of this fellowship is access, access, access. Food is a perfect theme as it offers a cultural connection across any number of barriers; everyone has something to say about what we eat, when we eat, and how we eat it. No doubt the exhibition will open up lots of conversations about the politics and ethics of food, and we can't wait to dig in (sorry).